TS-2000 Auto Mode Memory Manager
FREE KenwoodÒ model TS-2000
Auto Mode Memory Management Program

TS-2000_AutoMode version 1.0 for Microsoft Windows
Version 1.0 is the first public release of this application intended for use by owners of the Kenwood® model TS-2000 Transceiver.
It should install well on computers running Windows XP SP3/Vista/7.
It was developed on an Intel i5 650 computer running Windows 7, 64-bit Home Premium Edition.
This program requires the full edition of Microsoft.Net Framework v4.0 to be installed on your computer before it will run. You can check your system by looking for Microsoft .NET Framework v4.0 in the list of installed programs.
If the required files are not found on your system, the setup program will attempt to download them for you automatically from the internet during the installation.
After downloading and installing the required files, you will need to reboot your computer before resuming the setup.

What is Auto Mode?
Auto Mode is a facility built into the Kenwood TS-2000 that when activated, it will change the radio's mode (AM, FM, LSB, USB, etc.) as you tune up or down the bands using your VFO knob. This is a great thing! It really makes tuning the rig much more convenient. However, I found it quite cumbersome when it came to programming the Auto Mode memories from the front panel keys. And it was very difficult to edit and upload a text file to the radio using HyperTerminal.
The other thing is this: Kenwood's own MCP-2000 memory channel manager does not save the Auto Mode memories! Any time the radio is reset, you lose the Auto Mode memory settings as well. So I decided to write a little program to make it easier to program and to restore the Auto Mode memories. Maybe you will find the program useful.
We all have a way that is comfortable for us to use our rigs, but if you haven't given Auto Mode a try, you should. You may just like it!
The graphic shown below describes how the Auto Mode Memories work: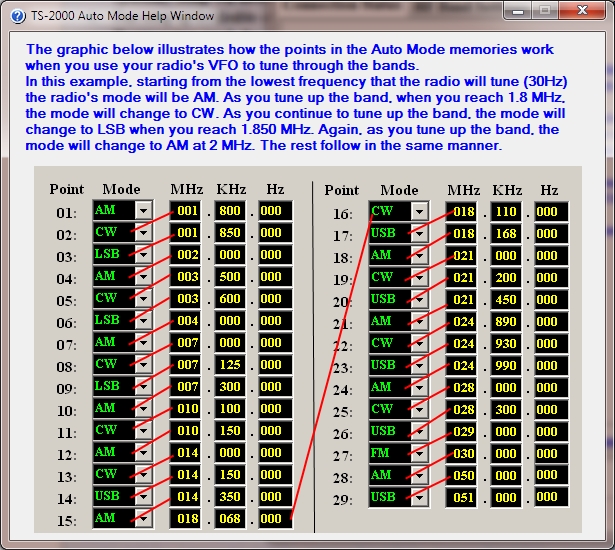 What is the purpose of TS-2000 Auto Mode?
TS-2000 Auto Mode was written by WCØEM to:
Provide a FREE Auto Mode memory management program to any Amateur for use with their KenwoodÒ model TS-2000 transceiver
Provide a fast easy way to save Auto Mode memory setups
Provide an easy way to view and program your radio's Auto Mode memories
Provide a fast easy way to load the defaults, or load your own user setups and write them to the radio's Auto Mode memories
TS-2000 Auto Mode Screenshots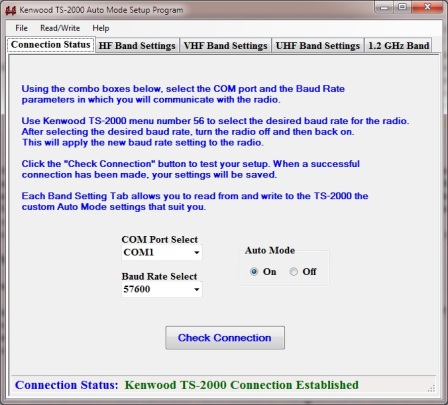 This is the opening screen. It gives you instructions on how to connect your radio.
Check out page 93 in the TS-2000 Manual for more information on connecting your computer.
Your COM port and Baud Rate settings are saved after a successful connection has been made.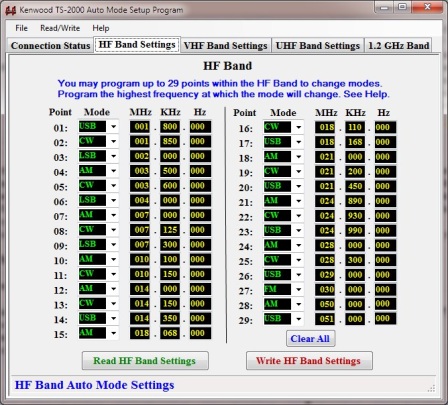 This is a screen shot of the HF Band Auto Mode memory manager.
You may program up to 29 points at which the radio will automatically change modes.
See pages 73 and 74 in the TS-2000 manual for details concerning Auto Mode.
Installation Instructions
Read this file first: ReadMe.txt

Download and unzip the TS-2000_AutoMode.zip file to a convenient location on your hard drive.

If you do not have Microsoft .NET version 4.0 installed on your computer, either download and install it first, or
optionally Setup will inform you that you need it. Setup will then install it automatically for you off of the internet before you can continue to install TS-2000_AutoMode.

Run setup up by double-clicking on 'setup.exe'.
If your system needs the .NET framework, you will be prompted to install it.
After setup is satisfied with the correct installation of the the .NET framework, setup will continue with the TS-2000 software installation.
You may get a warning message from Setup telling you that the publisher is unknown:

The publisher is WC0EM. Click on the Install button.

Follow the instructions noted on each tab of the main screen, and open the one page Help window to see a description of how the Auto Mode memories work.

Download a FREE copy of TS-2000_AutoMode for your Amateur Radio Station!
Single Zip File (461 KB)